The vast range of cosmetics and beauty products and their use

Cosmetics and beauty products together helps us look and feel our absolute best. While cosmetics only temporarily correct or enhance our appearance, facial beauty products, whether natural or not are the ones we put on our skin to improve, renew and protect our skin.

The Origin of Cosmetics

Cosmetics manufacturing originated in the early 20th century and dominated by a small number of multinational corporations. Cosmetics saw their beginning around 3500BC in Egypt and also from records in the Old Testament.

In these times cosmetics were highly dangerous containing lead, chalk or belladonna - a deadly toxic applied to the eyes to dilate them to make them stand out more. To say the truth it didnt improve much nowadays!

Make-up was only allowed to actresses or famous people since it was considered chemically dubious or found in the kitchen like berries and beetroot.

Various cosmetic products to enhance our looks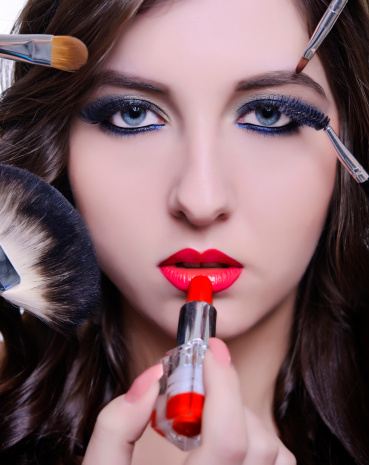 Cosmetics are quite vast and some of us might not even heard of certain products like eye primers, primers, eye brow powders or pencils which only some professionals use.

Light primers are to highlight certain areas or used in darker shades to conceal flaws.
Eye primers are used as a base for eye shadow and to hold it all together. Primers come either as a cream base or as a powder. Though all not cosmetics brands have these as part of their make-up collections.

Nowadays we find mineral and also cruelty-free cosmetics and beauty products. Usually these cost a bit more than cheap ones which contain various chemicals like lead, which are a hazard to your health.

Mineral cosmetics are mainly found in beauty salons, department stores and more convenientally online.

Defining Cosmetics and Beauty Products

Cosmetics range from finger and toe nail polish, perfume, facial make up. These are called decorative cosmetics while care cosmetics and beauty products are lotions, skin care creams, hand sanitizer, baby products, bath oils, bubble baths and salts, butters and many other types of products.

Here is a list of makeup beauty products and cosmetics and their use
Face Primers are meant to reduce pore size, as a smoother base to makeup and to make it laster longer
Foundations: to cover and give a base colour under makeup. Come in different formualtions
Eye Primer: base for eyeshadow and intensify color
Lipgloss: a shiny form of lipstick that is somewhat liquid
Lipstick, lip gloss, lip liner, lip balm come in roll-on tubes, pencils or creams and in different colours and flavours
Concealers: used to cover imperfections like blemishes.
Blushers: used to highlight cheekbones and define them. Come in different formulas too
Contour powder/creams: might not be well known by some poeple, used to modify the face shape
Highlights: the same as contour creams, are used to bring out high points of the face. Come in various formulas too
Bronzer: as the name suggest gives a golden or bronze glow. Come in various finishes
Mascara: used to define, darken, lengthen, and thicken the eyelashes. Comes in natural and bolders colours
Eyebrow Colouring: come as pencils, creams, waxes, gels or powders to colour and define the brows

Nail polish: for fingernails and toenails
Setting Spray: used to protect makeup and for longer times. A powdery form either coloured or translucent can be used instead of spray.
Follow these step by step tips on how to put make up or watch the video.

How much do you put on yourself each day? How much are you poisoning your body?

For more on beauty product and skin care, how these evolved with the help of science and technology can help you choose the right anti aging beauty products for your skin type

An annual estimate of $19 billion is spent on cosmetics and beauty products worldwide.

Though make-up is used mainly by women, men are increasingly using such products like concealers.

Read more on makeup beauty products here. At beauty product we hunt for the best skin care goods and cosmetics for you!
---
Go back to Beauty Product Homepage

---
There is an easy way to stay updated with all that's new at BPH. Subscribe at the top of the navigation bar over on the left.

---