How to put Make Up for Natural Daytime Wear

Do you know how to put make up? Do you find it difficult or are there too many steps and not sure? Master the basics and look gorgeous day or night. The following tips are easy to follow and doing it in less than 10 mins.

This article will start from the ground up to a finished canvas.I find this easy me as a newbie.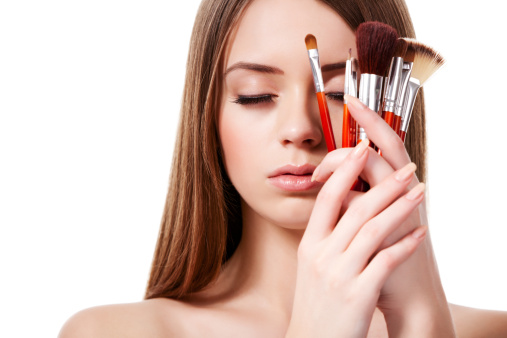 Preparing the base

Follow these step by step tips to learn how to apply make up for the day

Next apply a primer with a brush or your fingers to even out skin tone. Primers come in colour corrective versions to combat for example red spots and dark circles and shadows. You have to pick the complementary colour of your problem area.
You can proceed with a concealer to brighten up areas like under eyes or around the nose.  Dont go overboard in colour selection – always choose a tone lighter than your skin's.
Without doubt a good base is to start by hydrating the skin with a suitable moisturizer for your skin type for a homogeneous look.
Either go for foundation or a tinted moisturizer though this gives lighter coverage. Foundations offer heavier coverage and the trick with these is to really cover all bare areas including neck and cleavage if wearing low neckline. Just use powder to mattify shiny areas.
Here is a collection of all tips and techniques on how to put make up
Enhacing and Minimizing certain features or parts

How to apply bronzer
Enhance and highlight with a bronzer and an illuminating powder. The bronzer not too much orangey goes down from your temples to under your cheeks, under jawline and into hairline, well blended. The highlighter goes over your upper cheekbone out towards the temples. Go easy for a fine glow.


Blush in rosy cheeks
Dab some cream on your apples for a youthful look. Blend well in circular motion.
How to Put Make up - Eyes

Frame your face
Your eyebrows make or break your look. Keep their natural shape and just fill in with a pencil or natural eye shadow colour.
How to put eye shadow
Start by covering your lid with a basic colour. Go light on the brow bone and inner eye corners. Brush another layer of light brown on the entire lid, always blending well. With a medium brown draw the crease of the lid out to the outer corners of the eyes in a v-shape to extend the eyes. Put some color.
How to use eyeliner

The eyes are the softest part of our face so to apply the eyeliner you have to stretch your lids to draw a smooth flowing line.  Draw a thin line with a medium to dark brown pencil as close to the lashes as possible. You can draw your inner lid on the bottom lashes to make the eye look wider and open. Smudge any hard lines with a brush or fingers.
How to apply mascara

Curling your lashes before and even after really gives that open-eye look. Apply mascara with the tip of the wand and separate into individual lashes for that feathery impression. Dark brown or black for more definition and contrast do the job for daytime wear.
Defining Lips

The final step to complete your look is how to make your lips!

Coat the lips with foundation as a good base and stay-on longer application. Take two brown-pink pencils and with the darker one draw the outline of your lips blending inwards and fill in with the lighter colour. Then put a clear gloss or neutral colour for an overall coat. The lips look fuller.
Do you think that you feel a little bit more confident now on how to put make up? Dont be afraid...no one ever became a pro after the first trial!
Have anything to add? Please leave me a comment below and explore more subjects on this site.

---
---
There is an easy way to stay updated with all that's new at BPH. Subscribe at the top of the navigation bar over on the left.

---