Prom Makeup for a very Special Night

Apply Makeup like a Pro in no time and no money!

Prom makeup for a special day in all teenagers' life.  It's the last big social event of high school! And everyone wants to look fabulous! The photos will remind you of the big day for the rest of your life. So here is a tutorial that is photo-proof! There will be lots of flash photography so make sure your makeup is perfect! Enjoy and have fun.
For this occasion, the emphasis is all on your eyes – make them stand out, while lips stay bare. Evening or smokey eye make up are both good options to apply.
Preparing the Base: The foundation of everything

Make sure your skin is perfect for the big night.  Before you start layering any foundation or powder, always seal your skin with a hydrating moisturizer.
A good tip is to never try out new products or brands on the day of the big event. Stick with what works for you.
If you are reading this well in advance, then make you sure you match the perfect colour that blends well with your skin tone both on chin and neck.
Expressive Eyes for Prom Makeup: Techniques and colors

Prom makeup calls fo an intense smokey eye look.  Start the first layer in a flattering shade, a soft matte purple.
With a flat brush cover 2/3 of your eye lids starting from the outer corner and stop just beyond the inner eye ball edge.
Get a V brush and put a matte black eye shadow or a darker shade of purple, 1/3 of the outer corner and the crease line in a v-shape.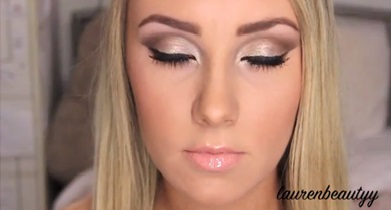 Photo from Lauren Beautyy

Time to increase drama effect. With a V brush put a matte black on the outer one-third and crease on your lid. If you don't want all eyes on you or look so bold go for a darker matte shade of purple.  Smudge the darker colour in your crease to give the impression of cat eyes or keep close to the lash line to make them look thicker. Blend out with an intermediate colour for a smoother transition with a soft round brush. Do not leave harsh outlines.
Highlighting Effect: does the Trick!

Grab any highlighting colour and with a pointed brush blend it from your inner eye corner and crease line out. This will make your eyes look bigger and open.
Highlight the Brow
Grab a colour close to your skin tone and even out any dark spill over from the previous colours. Apply it under you brow bone.
Apply eyeliner subtly just over your eyeballs outwards but going far beyond the outer corner and lightly under your lower lash line and smudge it. Apply two coats of mascara for a bold or false eyelashes for a more dramatic look.
Lips
If you are emphasizing the eyes for prom makeup then apply a neutral lip colour matching your skin tone with a coat of clear lipgloss.
Follow these step by step makeup tips for Prom makeup
Prefer to watch some make up videos rather than read?
Video 1- metallic shimmery look

Video2 - several teenage tutorials

---
Return to Makeup base
Go back HOME

---
There is an easy way to stay updated with all that's new at BPH. Subscribe at the top of the navigation bar over on the left.

---