Hair Styling Products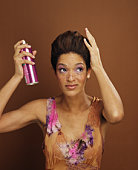 Are you using the wrong hair styling products?  Does your hair fall flat after some minutes? Using the right type will ensure to hold your look. Change your looks by giving it texture, shape or fix in place. Most styling products do no damage apart from make it dry, cause build up and some contain alcohols.
Defining hair styling
Refers to haircuts, making it look different. How we style our looks relates to fashion trends, culture, race and traditions.
Throughout history, styles were indicators of social class, age, marital status, political beliefs amongst others.
Back to Ancient Times
In ancient civilizations, women coloured their hair, curled it, pinned it up and often elaborately dressed in special ways. They used to curl and wave using wet clay, dry it in the sun and then comb out, or by preparing a jelly suspension made from quince seeds soaked in water or curling tongs of various kinds.
Styling Products
There are several hair styling products available and all have different uses. There is gel, wax, mousse, pomade, spray, volumizer and texturizer.
Here is a list of best hair styling products
You can get salon-worthy hair with these styling products voted the top of the range.
My hair is quite thin, frizzy, light and curly. To avoid it going flat the products that are heavy in nature like gels and waxes need not be  used. A good serum is always desirable for a shiny finish.
Also take in consideration the environment you are living in. If you live in a humid place go for product that can resist that condition.
TIP: Always choose based on your hair type if you want optimal results!

Hair Styling Products and Brands
Herbal Essences Shimmery Nights Shimmer Spray Gel
Users swear by it proved its name for glowing and shimmering nights. Holds a style enough and prevents wisps in the correct consistency. With a good smell, still great when applied extra. A shine and smoothing spray gel all in one.
Curly Hair Products
Finesse Curl Defining Mousse
Controls well leaving curls feeling soft with a good smell.
Frizz-Ease Thermal Protection Serum
Recommended for heat styling! Blowdries last longer with a nice shine without being weighed down. Leaves a nice shimmer look and you can go overboard as much as you like as it doesn't feel sticky or greasy. Some users claim their dryness and damage have improved.  
Pantene Pro-V Mousse, Extra Fullness Thickening, Maximum Hold
Ideal if you have very fine and thin hair. It has the ability to pump up and style however you like for long times. Very lightweight and non sticky with good smell.
Neutrogena Triple Moisture Smooth Shine Anti Frizz Cream
Great smoother even in humid weather with great moisturizing ability. Keeps it feeling soft with a great shine.
L'Oreal Paris Elnett Satin spray
It spells magic for the finishing touch -  it holds, it shines and it protects, even when brushed again and again. It offers hold and play at the same time with a satin finish.
Suave Professionals Healthy Curls Enhancing Spray Gel
Suave gives curls bounce, lift and a soft feeling, no stickiness and most important gives curls definition.
Pantene Sheer Volume Root Lifter Volumizing Spray Gel Maximum Hold
Ideal for very fine, just a spritz and it lifts from the roots. Ideal for styles with volume that require great lift and hold without being sticky and stiff. Volume stays on all day even after being brushed.
Giovanni Frizz Be Gone
Great anti-frizz product, no greasiness. Feels light and leaves a nice shine and smell.
Hope the above list can give you a starting point and satisfying results. Are there any more hair styling products that you use and happy with the finish? If so please leave a comment below...

---
Return to Beauty products section
Go back Home

---
There is an easy way to stay updated with all that's new at BPH. Subscribe at the top of the navigation bar over on the left.

---