Hair care Tips

Stick the following list of hair care tips on your bathroom mirror or beauty cabinet. Do you have issues with your hair's health and look? Is it dull, frizzy, split or damaged? Of all the hair care tips this should be your commandment #1....Stop abusing your hair and pretending shiny, gorgeous locks.
If you are a frequent wash-dry-style maniac, then you are in serious trouble or your hair's health is. Are you guilty of the following hair care mistakes? 
I also think that washing your hair less frequently will help it to grow more healthy. Avoiding chemicals and toxins in your hair beauty products is another big favor you can do to your strands! My hair is frizzy, fine and lacks volume. Washing it once a week is generally enough for most people. Give it a try.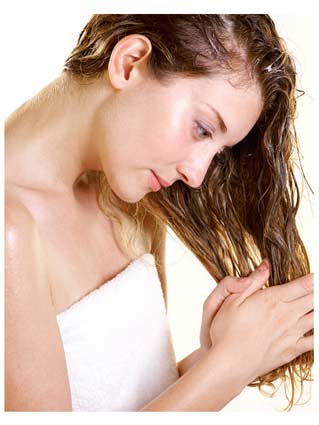 1. Brushing and Detangling
Ok, we already stated #1.... Hair is weakest when it's wet, and wet hair is more prone to tangling. Apple cider vinegar acts as a detangler before brushing. You can also try brushing before washing. Always use a wide-toothed comb.
2. Massage your scalp
Your scalp has natural oils which act as conditioner. Massage your scalp with your fingertips to stimulate circulation and hair growth.
3. Washing Freak
You don't need to wash your hair daily as you take out the scalp's natural oils making your strands look dull.
4. Haphazard Conditioning
Conditioner is intended to put on the ends but fine haired girls should also condition their roots to prevent breakage. A squeeze is enough for all your head. Consider investing and applying a deep treatment like an intensive hair repair mask once a month. Don't forget to rinse well until water runs clear. A good habit is to use a clarifying shampoo from time to time to prevent residue build-up.
5. Intense Towel Drying
While towel drying may sound harmless, actually it causes frizz and damage if your rub your hair. Either blot or use an old T-shirt to reduce frizz. Flick your head to shake out water. If possible always air dry for and run your fingers through to separate strands for easier managing.   
More Hair care Tips...

6. Skipping Heat Protection
is a no-no….If you can't live without styling, go for a superior heat protection serum that acts as a barrier between your hair and the heat tools. Wait for your hair to feel damp (humid), spray a little serum and distribute with your fingers. Style on a warm setting!
7. Using Hot Irons on Damp Hair
We are all guilty of this one (including myself). You never use hot settings on wet hair. Completely dry before heat styling - even when you are in a hurry.
8. Do you apply hairspray before styling?
The sizzling sound you hear when hot styling hair that has hairspray in it is the alcohol burning on contact with heat. Always use hairspray AFTER curling or ironing.
9. Teasing with Abandon
The occasional back-combing poses no serious damage but doing it frequently will affect your cuticles and cause breakage. Try using a root lifting spray and blow dry.
10. Thinking You Can Mend Split Ends
Once hair has split it is split and there is no way to fix it….an important hair care tip is to prevent it from splitting in the future by washing it multiple times in a week, scrunching it with a towel and hot styling tools. A temporary solution to smooth down split ends is to apply a product with beeswax or a serum with argan oil.
If you like what you learnt please subscribe on the buttons below and through RSS. If you have got hair care tips you want to share and your personal photos, please share them on my Pinterest board

---
Return to Hair beauty section
Go back Home

---
There is an easy way to stay updated with all that's new at BPH. Subscribe at the top of the navigation bar over on the left.

---