Best Hair Serum

Do you look like a Golliwog?

Photo source from One Good Thing by Jillie

The best hair serum can save you from a bad hair day! Finding the best one for you is not an easy task especially if you have been trying every other brand. What specific properties do you have to look for?
Here are tips to keep in mind when shopping around.

Serum for Hair
Are you seeing your hair dull and don't know how to make it look livelier? Don't give up. Help is here. Innovation, new and discovered hair beauty products are within hand's reach.  Shine serum can give a kick to your hair's life. Quality hair serums act as protection shield and create serious shine.  Today, hairstylists and salons can't do without this product. And you should not too.
What can hair serum do for your frizz?
The best hair serum is a both a hair care and styling solution in one which adds shine, protects from heat damage and keeps your hair untangled. You need to apply just a tiny amount in the palm of your hand and stays on till next wash. It should be on clean hair.  Hair serum forms a thin protective layer on the hair strands. It adds moisture back in that was taken out by the hot styling tools. It is used to calm down frizz besides adding shine. It is usually found in spray form. It is used on all hair types whether straight or curly.
Other forms of hair serums are the newly discovered and very popular – Moroccan oils or Argan oil, made from the kernels of Argan tree fruit that grow almost obviously and only in Morocco. The oil keeps hair and skin moisturized. You only need a tip otherwise you will have an excess of oil and grease (be cautious if you are prone to breakouts). The type of hair serum acts as a shield between hair and styling tools.
I had personally tried this oil and although it did not help much to tame my frizz, it did leave my hair shiny and smelling nice.

Some Important Facts about Hair Serums to Remember:
 Act as protection layer while smoothing down frizz with a shiny finish. Usually come with a nice smell too.
 Can be used on dry, semi-dry and even wet hair before styling or using hot tools. Although for best results it is better to apply to slightly wet or humid hair. Many offer protection against heat damage.  Look for one with UV protection if you are out most of the time.
Three to four drops of serum is all you need! Else it will weigh your hair down. Rub those few drops in the palms of your hands before transferring on your hair.
It is to be applied to your hair tips only, avoiding as much as it is tempting the scalp and roots.  Your hair will end up oily and with dandruff
It might be too heavy for you if you got fine hair.
Although some brands claim that results last all day long, you may need to touch up your strands.
If you don't intend to style using hot tools, go for basic oil like the extra virgin olive oil and the hot oil for maintenance and no side effects. These act as serums as well they are very light.
Go for salon and professional brands if you style frequently
So now that you know you need a good hair product, check out some the most wanted list of best hair products.
How to Use Hair Serum?
Watch this video about Argan oil as the best hair serum and look out for the coloring tip
Which is the Best Hair Serum?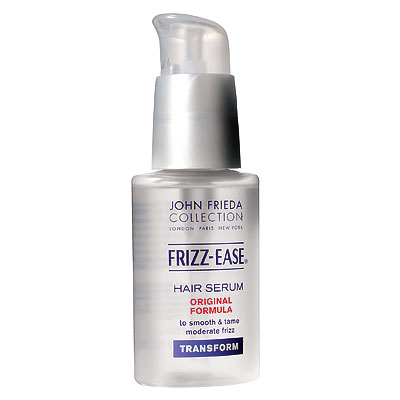 Here are some of the best hair serum with their pros and cons to make your hair shine like a new penny. Find the ones that that suits your needs.
Hair serum brands
There's a price for everything but the one for beauty does come in various sizes. You can get the product from various places from as little as $5 up to a couple of tens. If you don't know what is best for you ask your stylist before spending money.
Another alternative is to do a professional hair treatment or at home, called glossing. It is a clear dye that gives shine and enhances the color and protects hair from damage by sealing the cuticle. Color can last longer with the gloss. Effects can last from four to eight weeks. 
John Frieda Frizz Ease Hair Serum
Claims that with daily use it can prevent future frizz. It is really suitable to correct moderate frizz and best used on dry, normal, very curly, frizzy and damaged hair. Its silk protein tames fly away strands, puffy hair and mends split ends with a glossy finish. It claims to repel humidity, leaves hair manageable and can be used for straight or curl styling.
For further information, visit johnfrieda.com or call 1-800-521-3189 (USA)
Herstyler hair serum
This hair serum brand seems to be popular as it is made from Argan Oil and Provitam E for healthier hair and instant shine. Herstyler's Argan Oil Hair Serum is everyone's dream of instantly eliminating frizz, controlling, smoothing and shining in a non-greasy solution.   While it can be used on just-straightened hair it can also be used to activate and refine just-curled hair. A tiny amount is all you need to style and nourish your hair and the bottle goes a long way. Herstyler Hair Serum is also a moisture repellent to be used in humid conditions. Herstyler Hair Serum can be applied to both wet hair before styling, or thinly on dry and styled hair.
Read on and choose the Best Hair Serum for your hair type as not one product is suitable for all people.
Best Hair Serum for Dry hair
Best Straightening/Anti-Frizz Serum for Dry Hair: Kerastase Oleo Relax Serum
If you get dry, coarse hair and curly hair and you are after stick-straight looks then apply Kerastase Oleo Relax Serum on wet hair before blow drying for a soft and silky touch. Applied to lengths and ends. 

Another remarkable frizz fighter is Phytodefrisant Hair Relaxing Balm, a lightweight, botanical formula made entirely for naturally curly or wavy hair. The natural ingredients mainly herbs and chemically-free, relax the strands and protect it from heat damage. Furthermore to smoothing, is able to hydrate and strengthen your hair without the use of alcohol.
Benefits:
Increases hair softness and shine.
Helps to smooth and straighten hair without harsh chemicals.
Helps to eliminate frizz.


Best Hair Serum for Frizzy Hair
L'Oreal Smooth Intense Instant Smoothing Serum
While it does all the good things you can expect a serum to do, you should avoid applying to the scalp to avoid dandruff and it was noticed to attract dirt that causes you to wash your hair after a day.
Garnier Fructis Sleek and Shine Serum
This one was noticed for all the pros it has. Again avoid applying to the scalp and limit application only on the tips. A plus is its fruity aroma.
Extra Virgin Olive Oil
It is considered a natural serum and very effective in frizz fighting. Obviously it carries no side effects, easy to be found and very economic compared to the pricey labels. Higher quality Extra Virgin Olive Oil which has been cold pressed (not refined) is good treatment for all types of hair, leaving it soft and silky but it does not offer protection against heat. Just apply it on hair for 20 minutes before washing it!
Parachute Advansed Ayurvedic Hot Oil
While it is not expensive and does a good job of managing frizz, it is not capable of heat protection. Smells ayurvedic but don't go overboard when applying.
Matrix Biolage Hair Serum:
Does a good job and smells nice. Caution on extra dosage and applied on the tips.
Best Shine Serum: Bumble and Bumble Big Shine
Usually dry hair looks dull. Add a last touch to your blow dry with Bumble and Bumble Big Shine Serum. The micro-droplets give you a radiant blow-dry that feels light as the air.
Best Hair Serum for Fine Hair
Probably you already noticed that your fine hair is weighed down when applying a serum. Consider investing in a light leave-in conditioner for your curls.
Other Alternatives
There are other products on the market that can do the same job as a hair serum. Glosses, glazes, polishes, and pomades, all can offer the benefits of coating and protecting, giving a smooth and shiny look. Some glosses are specific for coloured hair, enhancing your colour each time you apply it.
If you found the best hair serum for your type or got a preferred brand, just drop us a note and share it with the rest of the world.
---
Return to Hair beauty products section
Go back to Beauty Homepage

---
There is an easy way to stay updated with all that's new at BPH. Subscribe at the top of the navigation bar over on the left.

---