Beauty Without Cruelty Product - Stop Torturing and Killing Animals

Using beauty without cruelty product means you care for animals! Make-up and cosmetics mean a lot to some people but not at the expense of animals' health. We live in age and technological era where companies have no social conscience and still do tests on animals when there are ways and means to test otherwise.
In 2003, the EU voted to ban animal tests for cosmetics and the sale of such products. We should be able to walk in any cosmetics shop and buy cosmetics assured that no animals were harmed. 2013 will see the ban of all such sales. Other continents should follow too. No animal should be caged and injected with chemicals, which eventually lose their life. Companies that engage in this type of testing have no respect for nature and as a consumer you should not sustain them financially. Beauty should not cost the life of another being.
There are companies that do not test on animals and these should be sustained and marketed like Marks & Spencer, Lush, The Body Shop and many others as these are offering you beauty without cruelty product.
Beauty Without Cruelty product: Respecting Animals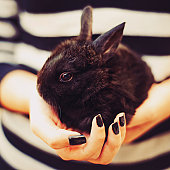 Join PETA in urging the European Commission to uphold the 2013 ban, visit PETA.org.uk/2013.
Update: Europe banned all cosmetics tested on animals on March 11, 2013!

Cruelty-free Mink Eye Lashes
Royal mink eyelashes are 100 percent cruelty-free, made from 100% authentic mink fur harvested in Siberia by brushing the weasel-like animals – otters, ferrets.
The bond is superior between the natural eyelash and the mink extension. The hair is very fine and you can have more volume and longer lashes. Every extension is placed on each natural eyelash that creates a fuller look. Also these fall out with your natural eyelashes within six weeks.
Extensions define the eyes without wearing mascara and for special events. If applied by skilled technicians you won't see the difference. Sets start at $75.
Support the sale of beauty without cruelty product.

Caring for Animals - What Can You Do?


http://www.crueltyfreeinternational.org

The Beauty without Cruelty Foundation was established by Lady Muriel Dowding, a famous UK animal rights campaigner (1908 -1993) in 1959 and is known as the BWC Charitable Trust, an animal welfare organization. Her husband has a well-known charity named in his honour - Lord Dowding Fund for Humane Research. The trust was founded to create awareness on the cruelties imposed on animals for their fur but later on covered all experiments done by health, medical and cosmetics companies. One animal that is extensively used in testing is the Guinea Pig for its productive breeding.
www.BeautyWithoutCruelty.org is a worldwide NGO specially targeted to protect animals and the abuse of animals in the vivisection/cosmetic industry, the fur and ivory trade, seal culling and factory farming. The Delamere Group is also a supporter of PETA (People For The Ethical Treatment Of Animals) Visit the website of PETA.
We at Beauty Product Hunter urge you to support organizations that care for animals and to buy skin care products that are not tested on animals, buy cruelty-free products. Be Human. Be Responsible.

---
Return from Beauty without Cruelty Product to Organic Beauty Products
Go back to Beauty Product Home

---
There is an easy way to stay updated with all that's new at BPH. Subscribe at the top of the navigation bar over on the left.

---