Beauty Care Product - What goes IN your skin?

When choosing an everyday beauty care product don't trust anyone. What you put on your skin gets absorbed in your body. Organic and natural skin stuff labels are not safe if not certified by authorities or recognised bodies. Any manufacturer can put an 'organic label'.
But more stores are getting certified natural and organic beauty products. One of these is the giant Whole Foods Markets in Austin which is stocking third-party-certified organic personal care products.
Beauty care products are loaded with chemicals and poisons used in the industry
More Natural Beauty Care Product Suppliers

Whole Foods Market shoppers can be assured that all products in store are truly organic thanks to the store's suppliers.
Anything in the Whole Foods Body section is:
All organic labelled products are certified by the USDA's National Organic Program (NOP) standard for (>95%) organic products.
Products claiming to be "Made with Organic [Ingredient]" are certified by the USDA's National Organic Program standard for Made with Organic (>70%) products.
"Contains Organic [Ingredient]" products are by the NSF/ANSI 305 Organic Personal Care Standard.
Products listing an organic ingredient in the "Ingredients:" listings are certified by the USDA NOP standard.
Hopefully as this largest national retailer has set specific standards, other companies would follow suit (and optimistically, at some point, government regulating bodies).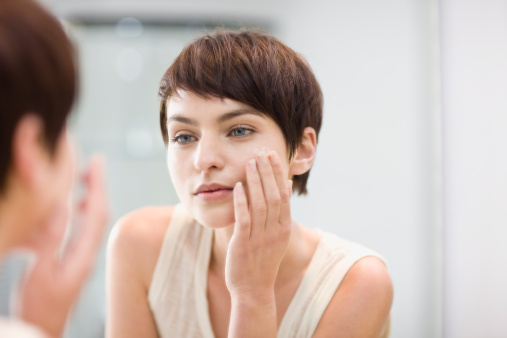 When buying skin and body care products take no shortcuts
Go Green in all your beauty care products. Remember Nature gave us all we ever need.
Skincare and beauty expert Alana Mitchell, owner of Skincare by Alana, specializes in all natural and organic day spa products online.
Alana herself constantly tests the majority of the skincare products that are on the market and the newest skincare treatments received. She says she is extremely choosy when deciding what is best for her customers.
Alana's chosen and tested products for this season:
Rhonda Allison Pumpkin Cleanser (1 oz. $13 & 4 oz. $33) - This is one of my Fall Favorites! I personally use it as a night-time cleanser because the pumpkin contains a natural enzyme that that gives your skin a great deep cleansing after a long day. If you have congested skin or need a good cleansing, use this product! It also contains Lactic Acid, which brightens your skin.
Epicuren Pumpkin Spice Apple Peel (NEED AUTHORIZED ACCOUNT) – This at home spa treatment makes for amazing skin! It works fabulously as a pore minimizer, and brings debris to the surface, leaving your skin clear and smooth. I love the gentle exfoliation, which helps in normalizing oil production and fights free radical damages.
A Source to Trust
Skincare By Alana's mission is to feature hard to find spa cosmetics that most e-commerce stores are not allowed to sell since 2008. Her clients are given expert advice before buying any product and can watch exclusive videos about usage, application and expected results. Alana puts every product to test, evaluation and judged for its effectiveness, value and unique properties. As every individual is unique, the client is encouraged to speak directly with a skincare expert she trained at her online store to get a personalized consultation before they choose.
Her spa - Spa Alana in Dana Point, CA, is one of most widely recognized day spas in Southern California's.
What is Skincare by Alana all about?
Alana focuses in offering customers around the world hard-to-find products that have been approved by her. She believes in natural and organic products. For the utmost benefit of her customers Alana creates hands-on instructional and educational videos for the chosen products. Her staff is highly-trained to guide customers via telephone to achieve their skincare goals. With sales booming her company is constantly growing offering more than 200 brands, including Rhonda Allison, Eminence Organic Skincare, Image Skincare and Epicuren.
Consult  this site often to learn about suppliers who care more about you!

---
Return from Beauty Care Product to Beauty and Health Products
Go back to Beauty Product Home

---
There is an easy way to stay updated with all that's new at BPH. Subscribe at the top of the navigation bar over on the left.

---