Aloe Vera Beauty Product – The Plant of Miracles
Aloe Vera beauty product does miracles to your skin. Do you suffer from rashes, sensitive, red skin or got stung by an insect or burned your hand?Applying aloe vera directly offers relief alleviates and soothes the pain. Its is widely used in beauty products for various uses.

It has been used for centuries for its Healing powers and Health benefits. It gained popularity lately as it is used in most products from soaps, creams and baby products.
Amongst its hundred uses, Aloe is good to drink as a detox to lose weight, removing toxins from your body, heal the gut, stomach, heartburn, constipation, IBS and to heal skin diseases like acne, psoriasis, eczema – taken orally or applied topically. As you can already understand, Aloe Vera is very versatile. You can buy the plant and start using it.  Its thick and thorny leaves contain the liquid that can be used immediately. Definitely you will have a 100% pure source. Also it has multiple benefits as it acts as anti-bacterial, anti-inflammatory and much more.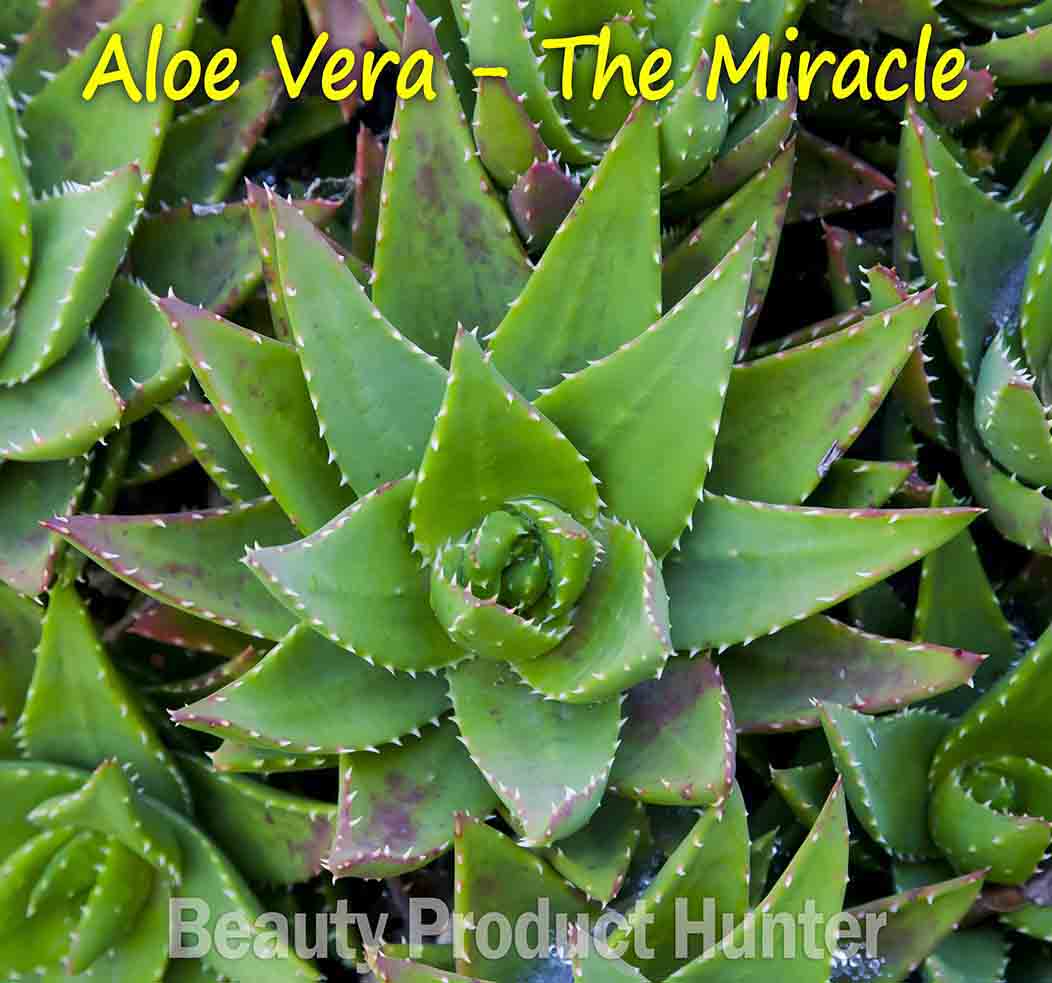 The Plant Origins
Aloe vera got its name from the Arabic word "Alloeh" meaning "shining bitter substance," while "Vera" in Latin means "true." Greek scientists regarded Aloe vera as the universal panacea around 2000 years ago while the Egyptians called Aloe "the plant of immortality." Egyptian queens Nefertiti and Cleopatra made use of the plant in their regular beauty management. Alexander the Great, and Christopher Columbus used it to treat their soldiers' wounds.
The botanical name of Aloe Vera is Aloe Barbadensis Miller. It belongs to the Liliaceae family, and is a shrubby succulent, pea-green colour plant. It grows mainly in the dry regions of Africa, Asia, Europe and America. The plant has triangular, fleshy leaves with saw-like edges, yellow tubular flowers and fruits that contain numerous seeds.
A unique plant which contains no less than 75 potentially active constituents like vitamins, enzymes, minerals, sugars, lignin, saponins, salicylic acids and amino acids.
A word of caution: Aloe Vera cannot be drunk for a long time as it has some contraindications and side effects. Please follow the instructions on the bottle and consult your doctor before. Also it has a bizarre and strong taste if you buy aloe on its own. Other times it is mixed with sweet fruits like cranberries.
You can find aloe vera plants almost everywhere depending on your country. It can even be sold in large chain supermarkets like Lidl in Europe or check your florist. And are fairly inexpensive to buy. You can even cultivate it at home if you are lucky enough to have the right ambient and live in a warm country. Aloe Vera plants grow in warm and dry conditons. Else you would have to rely on renowned companies that produce the best aloe vera beauty products.
Aloe Vera and the Skin
As I already said above, Aloe has many beneficial properties. It contains:
Vitamins ACE which are antioxidants (fighting free radicals) among others like Vitamin B12, folic acid and choline.
Enzymes that reduce inflammation on the skin
Increases collagen and elastin fibres in the fibroblast layer making the skin more elastic and less wrinkled, through oral or topical use. It also softens hard skin and acts as an astringent to tighten pores. Acts as a moisturizer and anti-aging, therefore it can help scars heal faster and acts as wrinkles fighter. Aloe can help you look younger! It also acts on stretch marks, wounds and wherever you need to heal the skin.
It is very useful on dry skin and acne as it is a natural antiseptic inhibiting fungi, bacteria and viruses.
Finding good Aloe Vera beauty products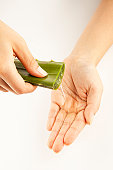 The one I used to swear by was Aloe Vera drink and gel from Herbalife when I was still a distributor. It's easy to get your hands on this brand as it's a multinational company found all over the globe. I used to use it day and night on my scars on my face, on my body to feel cool during hot summer months and against insect bites and to reduce the redness of spots. I am a living testimonial of Aloe Vera and its health benefits. Aloe Vera can be used on fine lines and wrinkles and within a few weeks you can see that these start to fade.
Many companies use 100% aloe and sometimes you find it mixed in with other ingredients. Go for organic aloe vera beauty products.

---
Return from Aloe Vera Beauty Product  to Organic Beauty
Back to the Home of Beauty

---
There is an easy way to stay updated with all that's new at BPH. Subscribe at the top of the navigation bar over on the left.

---